Valentine Miller's answer to my question on the subject of the rights for 'First Impressions of Greece':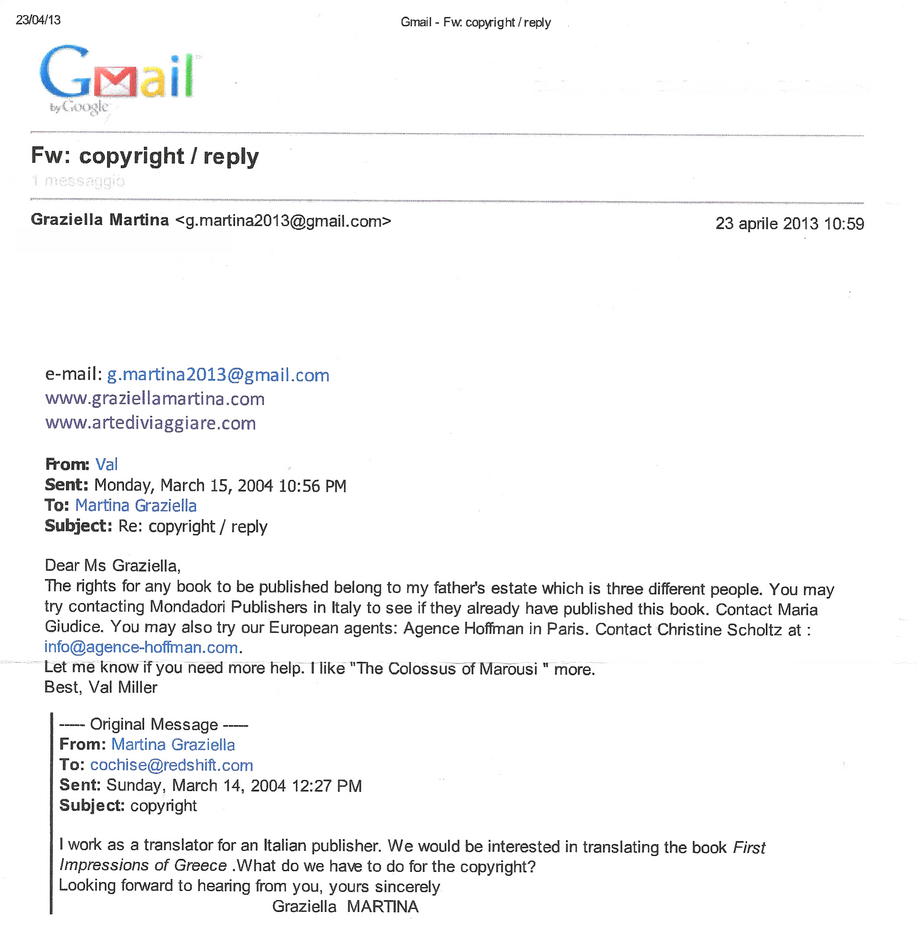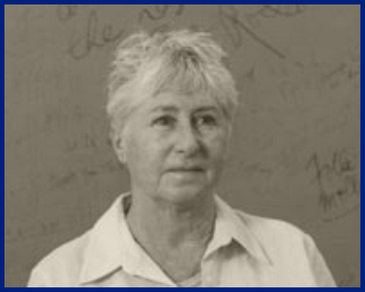 Born in 1945 in Berkeley, California. Mother lived in Zabnow, Poland until coming to the East Coast at age 12. Janina Lepska became Lepska Miller when she married my father, Henry Miller. My younger brother, Tony & I lived an idyllic childhood in Big Sur. When my parents divorced in 1954 we spent the school term in Pacific Palisades with mom & holidays in Sur with dad.
When I was 12 Dad came into some $ selling a few Fernand Leger works, so in 1957-8 Dad & Eve (his 4th wife) Tony & I went to France. What a grand new world! We visited with Dad's French friends, had marvelous meals at their flats, explored the streets of Paris. Tony & I also stayed with the Maillet family in the small town of Die in the Drome.
We visited Larry Durrell in the South of France, stayed with his family in Sommieres. Also saw the white horses of the Camargue, the gypsy camps in St Marie sur la Mere, Nice & Nimes & the formidable Pont du Gard…

Dad moved to the Palisades in the mid 60's, bought a house on Ocampo Drive. I graduated from Pali High then married at 18. My husband & I traveled across the US then drove all over Europe & North Africa in a VW bug for 6 months.
Divorced after 1 1/2 years, worked in the film industry as an extra & stand in. A friend I used to ski with in Mammoth suggested Aspen, so I became a ski bum for a few years. Skiing days, working in clubs & bars nights. These were the good old days before Aspen became "Carmelized", a beautiful place. I rode my Arab mare in the summer, hiked Maroon Bells & Conundrum. Celebrated my 21st birthday at the Charthouse.
In 1969 I left Aspen with my dog & boyfriend not knowing where to go next. Mom suggested our old house on Partington, perfect! Lived a simple life, growing vegetables, gathering mussels in Partington Cove, picking strawberries & artichokes. Many of Dad's friends took us under their wing, inviting us to dinner. We played ping pong at Doner's in the Carmel Highlands. Learned about wines from Bill Webb, listened to the stories Emil White would tell. Emil would later donate his home to become the Henry Miller Memorial Library.

I am fortunate to have lived in such a wonderful place. I have great memories of watching the whales migrate, seeing the Milky Way & meteor showers, incredible sunsets from the deck looking for the green flash as the sun sank into the sea. Many walks in the forest & up on the golden hills, with the redtail hawks soaring on the canyon thermals.
Have traveled through most of Europe, Mexico, Australia, Greece & am looking forward to New Zealand next. Have enjoyed hiking in Yosemite, Sequoia, Death Valley, Borrego Springs, Joshua Tree, Zion & Arches in Utah, Tahoe, Pt Reyes… Last fall I drove thru the lovely Okanagan Valley in B.C. to the Canadian Rockies.
Nowadays I live on the Monterey Peninsula & am happy to bike & hike in Ft Ord, Toro & Garland Parks, walk on the beaches & explore the dunes. Life is good…